LUXUS LATEX SAMTGUMMI
luxury latex pants velvet rubber bloomers in pink red : XL
RARITÄT ! Aus natürlichem Samt Gummi, seidigem Latex. Echte Gummihose, zweite Haut Schlafhose, Saunahose, Windelhose, reizende Fetisch Unterwäsche, am besten auf der Haut direkt getragen. Gummi Schutzhose für Pflege, Patient und Hygiene. Pures echtes samtiges Gummi, aus bestem Latex Kautschuk aus dem Saft des Gummibaumes. Schon vor 100 Jahren machte man Schürzen, Badehauben, Gummilaken, Regenmäntel aus Samt Gummi. Im Laufe der Zeit liebten besondere Menschen mehr und mehr die wundervollen Reize des echten SamtGummi. Berühmte Designer von Fetisch, wie Sealwear, Lampe, Kunzmann, Kastley, Guwi, waren bekannte und beliebte Anbieter der speziellen SamtGummi Fetisch Mode. Sammlerwert! Weil weltweit höchstselten zu finden! Wird nicht mehr produziert. NEU von mir zu ersteigern. Auflösung von Fetischsammlung.
LUXUS LATEX, Samtgummi, Gummihose,
AB, DL, DW, SISSY, Fetish, Fit, Fun, more ...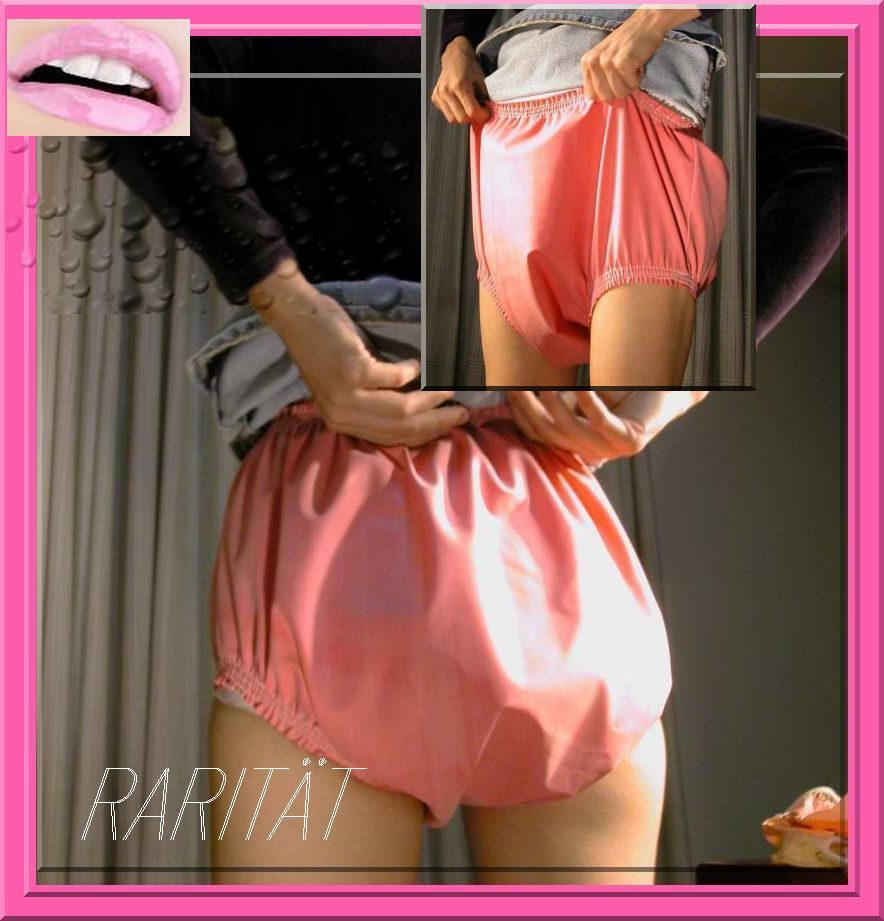 Grösse: XL (passt auch XXL) Farbe: red brilliant rot

Materialstärke cira 0,25 - 0,30 mm! Auflösung Sammlung, nie getragen! also: NEU !
LUXURY

LATEX,

velvet rubber, AB, DL SISSY, Fetish, Fit, Fun more ... second skin Latex REAL Rubber pants
...
thickness round about 0,25 - 0,30 mm,
Size
:
XL
(to XXL) FARBE:
rosa rot,
Umfang Taille circa bis 125 cm, Umfang Hüfte circa bis z 135 cm, Länge von Taille bis Schritt Mitte circa 58 cm
!
... kann bis an die Brust hoch getragen werden!
COLOR

:

beauty pink red.
Waist

circumference

to

about

125

cm

!
Length

from

waist

to

bottom

step in mid-

waist

about

58

cm

! ... you can wear these velvet latex pants high to breast!
RARITY! From natural rubber velvet, silky latex. Real rubber pants, sleep pants second skin, sauna pants, diaper pants, lovely underwear fetish, best worn directly on the skin. Protective rubber pants for patient care and hygiene. Pure real velvety rubber, latex rubber from the best from the sap of rubber trees. 100 years ago they made aprons, bathing caps, rubber sheets, raincoats made ​​of velvet Latex Real Rubber. Over time, more and more special people loved the wonderful charms of genuine velvet Rubber Latex. Famous designer of fetish fashions, such as Seal Wear, Lampe Kunzmann, Kastley, GUWI, were well-known and popular provider of special velvet Real Rubber Latex fetish fashions. Collector's value! Because very rarely to be found worldwide! Is no longer produced. New bid to me. Resolution of my Latex Rubber fetish collection.

... einige andere Beispiel Anwendungen: z.B. für ADULT BABY, DL, DW, SISSY, PATIENT, KLINIK, HEIM, HYGIENE, PFLEGE ... Fetish Fit Fun ... more ... manche verwenden diese Luxus Latex Rubber Pants auch gerne als (oder in Kombination mit) Saunaanzug, Exercise Suit, Schwitzhose, slim pants, Schlankheitshose ... oder für warm up, work out ... oder für Spezielles in Beauty und Wellness, Entspannung, Fettverbrennung, Entschlackung ...
Auktions_KONDITIONEN: Private Auktion. Keine Rückgabe. Kein Umtausch. Keine Reklamation. Keine Gewähr. Keine Garantie. Freiwillig, aus Kulanz und ohne Rechtsansprüche nehme ich die Ware zurück (und bezahle den Kaufpreis zurück), wenn der Käufer mir schriftlich (email reicht) wichtige Gründe miteilt. Bei mir wird 100% perfekt abgewickelt, Siehe meine 100% positiven Bewertungen. Bitte nicht bieten, wenn mit diesen Konditionen nicht einverstanden. Die Ware ist in meinem Privaten Besitz, und sie ist aus der Auflösung meiner PRIVAT-Sammlung. Die Ware ist nach den eBay-Richtlinien neu ! Alle Fragen bitte vor Ersteigerung klären. Vorausbezahlung sofort nach Kauf. Verstösse gegen EBAY, Verstösse gegen Gesetze, und Verstösse gegen Urheberrechte (TEXTE und FOTOs) werden geahndet. Mit der Abgabe eines Gebots werden diese Bedingungen vom Käufer anerkannt. Ausländische Käufer müssen mit Pay Pal bezahlen.
Auction conditions: private auction. No return. No exchange. No complaints. No warranty. Voluntarily, of good will and without legal rights I take back the goods (and pay back the purchase price) if the buyer (email is sufficient) writes important reasons. For me 100% goes perfectly, see my 100% positive feedback. If not agree to these terms, then do not bid. The product is in my private property, and it is from the release of my private collection. The product is new to eBay's policies! Please clarify all questions before buying. Front payment immediately after purchase. EBAY violations, violations of laws, and violations of copyrights (text and photos) will be punished. By placing a bid, these conditions are accepted by the buyer. Foreign buyers must pay with Pay Pal.
... this is an alternative fetish fashion dessous for fans of lingerie like for an example from KASTLEY´s, Atelier Kunzmann, GUWI, Marquis Latex, Latex Honour Clothing, Skin Two, Latex Clothing, Demask, Westward Bound, Sweet-Skin, Ectomorph, Simon O., House of Harlot, Latexa, Latex-and-Lovers, Rubber LUV , MyProtex ...